Making a
Sweet

Impact

Our commitment to serve our communities is one of our greatest sources of pride and core to our founder's legacy. Rosa Porto had a passion for feeding people, and just like most grandmas, was heartbroken to see anyone go hungry. In pursuit of continuing her personal mission, we bake all our breads and pastries fresh daily and donate them nightly.
Sweet Impact" />
Supporting the Veterans
To all who serve and have served, Porto's Thanks You! It's an honor to have the opportunity to celebrate our country's veterans. What started as an employee's inspired idea has developed into a Porto's tradition of donating a box of complementary Porto's pastries to all men and women who have served in Armed Forces.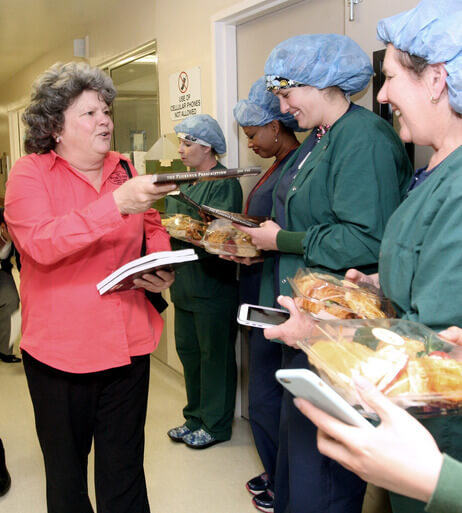 Community Involvement
At Porto's, family is at the heart of everything we do. The communities in which our bakeries reside have become extensions of our family. As a business, we have always tried to stay involved in youth sports teams, school events, the Girls and Boy Scouts of America, hospital charities and other local community events.
Children's Hospital of Los Angeles
It's an honor to have a children's hospital that is of the caliber of Children's Hospital Los Angeles in our backyard. We are privileged to partner with CHLA in striving towards their mission of creating hope and building healthier futures for all children. Each year through campaigns such as Giving Tuesday and Make March Matter, we directly support the Helping Hands Fund which provides the necessary resources to ensure the hospital can continue providing life-giving and life-saving care for society's most vulnerable children, now and for future generations.
Union Rescue Mission
Ever wonder what we do with our unsold products? For over 11 years, we have donated all our unsold pastries and breads to the Union Rescue Mission (URM) in Los Angeles. With your patronage, we are able to help feed the less fortunate families in our community every night and help support the life-transforming work of URM.  URM is one of the largest rescue missions of its kind in the United Sates, and the oldest in Los Angeles. URM offers nourishment, safety, and support to men, women and children experiencing homelessness and it's a privilege to be a part of their mission.
Careers through Culinary Arts Program
Careers through Culinary Arts Program (C-CAP) is a national non-profit that educates and guides underserved high school students toward a bright future. For the past decade, Porto's has partnered with C-CAP by offering internships, restaurant training, as well as career opportunities to hundreds of high school students in the Los Angeles Region.
During the Covid-19 Pandemic, Porto's Bakery was honored to make donations to support frontline healthcare workers at local hospitals, assisted living centers, and vaccination sites, including:
Kaiser Permanente in Panorama City
USC Verdugo Hills Hospital
Dignity Health Glendale Memorial Hospital
John Wesley Community Health Institute/Wesley Health Centers
Martin Luther King Jr. Community Hospital
Providence Saint Joseph Medical Center
Los Angeles County + USC Medical Center
Olympia Medical Center
Norwalk Meadows Nursing Center
Glendale Adventist Hospital
Arcadia Methodist Hospital
Kaiser Permanente Baldwin Park
City of Hope
UCLA Health in Torrance
Abound Food Care
Kaiser Permanente in Downey
Olive View Medical Center
Keck Hospital of USC
California Hospital Medical Center
Ronald Reagan UCLA Medical Center
Kaiser Permanente Los Angeles Medical Center
Providence Medical Center in Torrance
West Covina Health Care Center
Montclair Manor Care Center
UCLA Health in Santa Monica
Brookefield Healthcare Center
Alexandria Care Center
Fountain Valley Regional Hospital
Redlands Community Hospital & Ophthalmology Clinic
Pomona Valley Hospital Medical Center
Glendale Memorial Hospital
Alden Terrace Convalescent - Assisted Living Facility
H. Claude Hudson Comprehensive Health Center - Urgent Care
Dignity Health - California Hospital Medical Center
St. Jude Medical Center in Fullerton - Urgent Care
Los Angeles Community Hospital
Providence Holy Cross Medical Center in Mission Hills
Veterans Affairs Greater Los Angeles Healthcare
Curative Vaccination Site - Dodger's Stadium
Loma Linda Hospital
Children's Institute, Inc.
Know of a deserving organization that you'd like to nominate?
Nominate an Organization